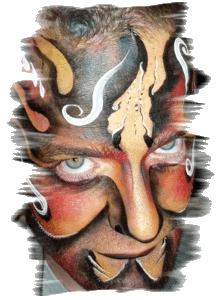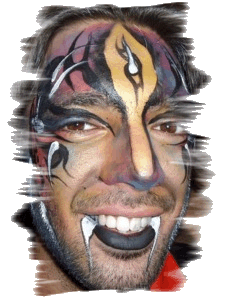 Elite Face Painting
Introduction
If you are looking for something different then look no further. Elite Face Painting is the specialist department of Lorna Strachan's Cool Faces. One of Scotland's best established children's entertainment companies, Cool faces offers a variety of face painting and children's entertainment for store openings and promotions, parties, gala days and community events. Elite Face Painting goes one step further, offering a style and quality of face painting and body art that is not just out of the ordinary... it is, as the name suggests, very special... it is Elite.
Lorna has personally proven that face painting is not just for kids. Specializing in face and body art for teenagers and adults, Lorna's services are in high demand for what might be the most surprising of events.
Amongst the private events that Lorna has been asked to cater for are 21st, 30th, 40th 50th and even 60th birthday parties, weddings, 1st birthday parties (where something more colourful than henna is considered to be a real treat), under 18 disco's and even evenings at various rugby clubs! Lorna has a special talent for painting adults and her expertise in special effects work, as seen on BBC Television, means that she has an uncanny ability to bring the simplest of fancy dress costumes to life and to bring a smile to ever face.
---
Elite Face Painting
Clients
Lorna is proud to have been chosen as the official face painter to the Scottish Parliament for the 10th anniversary celebrations. Because of her 'hands on' knowledge of the best performers in the entertainment industry, not only has she been asked to deal with the face painting but she has also asked to arrange all of the magic ad balloon modelling for the event.
Lorna has been acclaimed, by both UK and international clients, as "the face painter who provides the complete package". Fully aware of the need to stimulate the imagination and interest of everybody involved in any promotion or celebration, Lorna motivates staff, makes sure that children and adults are involved
Lorna has personally been engaged for most of the Visit Scotland events. She is responsible for most of the face painting for the Scottish Rugby Union, Edinburgh Rugby, all of the entertainment for Aldi Stores Scottish store openings, Museums Scotland, Airtricity wind farm open days, the Knoydart Music Festival, to name but a very few.
Lorna has also been engaged by the higher education authority to provide tutors with the required training for them to incorporate a face painting and body painting module within formal makeup and beauty courses.
---
Elite Face Painting
Locations
Lorna is originally from Fife and is now based in West Lothian, central for both Glasgow and Edinburgh, but Lorna's face painting and body art know no geographical boundaries. Lorna has worked in all the major towns and cities throughout Scotland, from Inverness to Dumfries. In Glasgow, Edinburgh, Aberdeen, Dundee, Stirling, Cumberauld, East Kilbride, Paisley, Ayr, Perth, Bathgate, Livingston, Linlithgow, Falkirk, Kirkcaldy, Dunfermline and throughout Fife, to name but a few. Lorna has worked internationally, in Canada, the USA and in Europe and is no stranger to such places as Carlisle, Leeds, Nottingham, Liverpool, Manchester, Oldham, Sheffield, Plymouth and London.
---
Elite Face Painting
Contact
Telephone

44 (0) 150 663 6496

Mobile

44 (0) 778 537 0456

Postal address

97 Seafield Rows, Seafield, Bathgate, West Lothain. EH47 7AW

Electronic mail

General Information: info@elitefacepainting.com
Sales: sales@elitefacepainting.com
Personal: Lorna@elitefacepainting.com